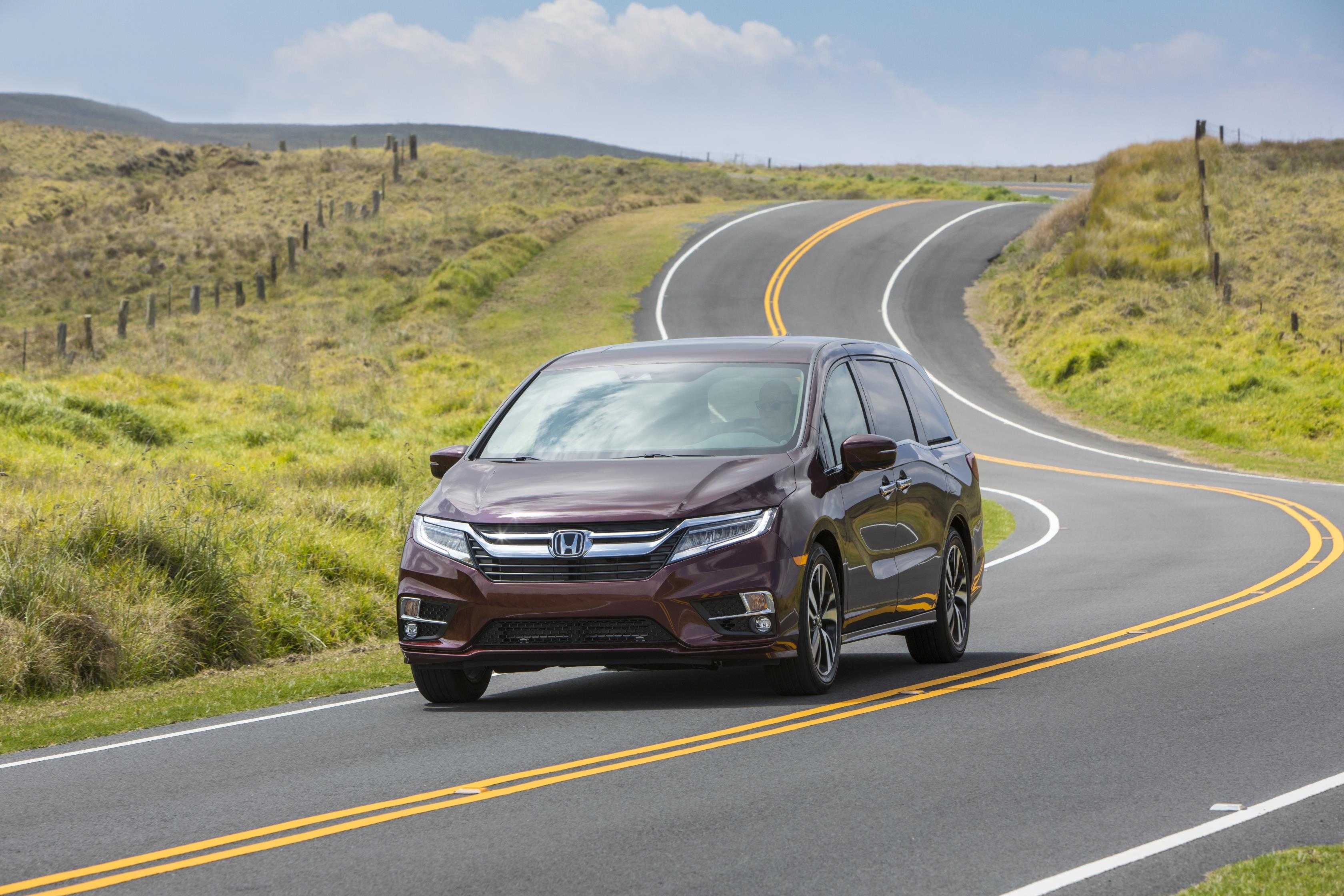 It's probably fair to say minivans are not the kind of vehicles that make it onto posters on the walls of children's bedrooms, but that's ok because they do a job and meet buyers' needs in a way no other vehicle can. That supremacy of practicality and versatility has been challenged in recent times though, by a seemingly never ending procession of crossovers that may still fall a little short in terms of utility, but are way ahead when it comes to desirability. Manufacturers of minivans have two choices then; either to give up on them altogether or fight back. With the redesigned 2018 Honda Odyssey, the Japanese auto giant is definitely fighting back with an all-new, completely redesigned fifth-generation for 2018.
Styling
In the past, some minivan manufacturers could be accused of overlooking how important it is to offer buyers a vehicle they like the look of as they have concentrated so hard on delivering something as practical as possible. Honda realizes buyers want it all these days, and we can see that in the completely redesigned 2018 Honda Odyssey. Yes, it's still got a boxy shape, but the designers look to have done everything then can to make it as sleek and attractive as possible. The front of the Odyssey clearly follows the current corporate face, and all versions now feature active grille shutters for improve aerodynamics on the highway.
Features and Equipment
A book could probably be written about all the standard and available features and equipment in the 2018 Honda Odyssey, so to say this is a well-equipped vehicle is a huge understatement. Base LX models come standard with: keyless ignition, hugely adjustable front seats, cruise control, Bluetooth connectivity, a USB port, automatic climate control, a rearview camera, a seven-speaker audio system, power features and 18-inch alloy wheels. Admittedly, buyers will have to go for top-of-the-line models to get the new 10-speed automatic transmission and some of the most cutting-edge technology, but the Odyssey isn't found wanting in any trim level.
Interior
The starting point for the interior of the Honda is its generous amount of interior space for accommodating up to eight people and carrying all the diaper bags, sporting equipment, camping gear, and just about anything else a family needs to take with them. In terms of the Odyssey's seating flexibility, materials quality, and tech features for entertaining the family, this all-new model takes the previous fourth-generation's offering to another level. The dash looks like it was lifted straight out of the CR-V, there are spaces and cubby holes for everything, and more soft touch surfaces than ever impart a more prestige feel throughout.
Powertrain and Performance
No reasonable person is going to be too concerned with the straight line speed or top speed of their minivan, but they don't want to feel as though they're driving a giant bath that's half full of water either. There's still a 3.5-liter V-6 under the hood of the 2018 Odyssey, but this is a new engine that replaces its predecessor of the same size and ups the horsepower ante by 32 to a new output of 280 horsepower. There are nine- and 10-speed automatic transmissions, and the whole thing is based on an entirely new structure delivering 44 percent of additional torsional stiffness over the previous model. There's also a new steering system and a new rear suspension with a rear stabilizer bar, so this is a much better handling vehicle than it was previously. As for that relatively unimportant 0 to 60 mph time, let's just say it's a second quicker than the Odyssey's main rivals.
The 2018 Honda Odyssey is available now, so check it out at El Monte Honda and schedule yourself a test drive in this stunning new minivan.